In the world of erectile dysfunction medication, there is a lot of confusion about which product works the best, how, and why. There is also the difficulty in getting your hands on them, as it generally requires a visit to the doctor and a prescription, unless you get the dangerous stuff that can often be found in gas stations. The active ingredients in Cialis and Viagra are sildenafil and tadalafil, which is commonly known as the stuff that really works. Both sildenafil and tadalafil require a prescription from a doctor, which typically meant a visit down to your local clinic or family doctor. Not anymore; with Bluechew, you can get a prescription online by filling out a short survey and having the product delivered to your doorstep in a matter of days.
TRY BLUECHEW FREE
What Is Bluechew?
Bluechew is a revolutionary new ED medication that comes in a chewable "gummy" form. It has different variations which contain the same ingredients as big name brands that we're all familiar with, but this supplement takes it to the next level. Not only does bluechew kick in much faster than the pills we're used to, but it is also easier to consume, cheaper, and easier to obtain for the average person.
With most ED pills out there, you'll have to physically go down to your doctor and have them write you a prescription (if you're eligible). At that point, you'll need to go down to your local pharmacy and have them hand you the right medication. With the blue, everything is done online in a convenient manner. First, an individual must fill out their questionnaire to see if they actually need the meds, which only takes about 10-15 minutes. At that point, your application will be submitted to the official doctors at Bluechew. Within a couple of days you'll hear back from them via email – if you're someone who is deemed eligible for the supplement, you'll be able to order your case of the chew online quickly and easily. They're even offering a "first month free" deal currently where you only have to pay for the shipping of the product. If/when you're approved by your online doctor, you'll immediately be able to order.
They also have quite a few different packages to choose from so you can decide how much you want to pay and for what doses. The smallest package starts out at $20 per month which will either give you 6 sildenafil tablets, or 4 tadalafil tablets (Cialis ingredient), and the highest package can reach $90 per month which will give you about 34 sildenafil tablets and 28 tadalafil tablets. All in all, the packages are very generous in terms of bang for your buck and most would agree that Bluechew prices their product pretty fairly here. The packaging is also very discreet and there isn't anything on the package that would indicate what the product is.
Sildenafil Vs. Tadalafil: Which Is Right For Me?
If you have less experience with male enhancement supplements, you may be asking yourself which version of bluechew you should get. If you're wondering which version works best, the answer is that they both work extremely well and don't differ at all in terms of results. The founders of Bluechew said it best on their website – timing is everything here. Sildenafil (Viagra) was designed to last only 4-6 hours in the body. So if you know you have a hot date coming up and you only need to "enjoy yourself" later in the day, this might be the better choice. It's a short-term variation that is only intended to last for that period of time.
Tadalafil however, is said to last anywhere from 24-36 hours in the body. This doesn't mean that you'll have an erection that lasts that long (if you do, call a doctor). What it means is simply that you should be able to achieve an erection fairly easily within that timeframe. This means that for the average man, one tablet could mean multiple erections and sex sessions within a day to a day and a half.
Most men will typically opt for the sildenafil version as it is cheaper and more practical for most guys out there. However, tadalafil can be great fun for a weekend or a vacation when you find yourself with more time. Inherently, both versions work in the exact same way and will give the same results, just for different periods of time.
TRY BLUECHEW FREE
Bluechew Review – Does The Product Actually Work?
If you've been on the internet before, then you already know that "miracle" ED solutions are popping up pretty much every day. This is a massive industry and many companies are trying to get a bite. To make things short – yes, bluechew does work. Unlike other products you can buy online, these guys aren't using funky ingredients made in China that have suspect reviews and side effects. This is nothing like the ED meds you can get at the gas station for a couple of bucks; the product is really premium from top to bottom and that's what surprised me the most.
The supplement itself actually tastes like any other vitamin, so if you're worried about it tasting bad, don't. It actually tastes quite good – you just open up the packaging and chew for a good 5 minutes to drain out the ingredient. Once that's done, you should notice quite quickly that you'll be able to gain and maintain a rock-hard erection fairly easily. The whole process only takes about 15 – 20 minutes total which is significantly faster than pills themselves which can take 30 – 45 minutes to kick in.
The actual stiffness it brings is quite incredible too. I've noticed that it pretty much fills up my penis with the maximum amount of blood it can take in (which makes it look a little bit bigger too). Think of your typical morning erection in your teenage years – that's the kind of stiffy that Bluechew provides.
How Does Blue Chew Compare To The Pills?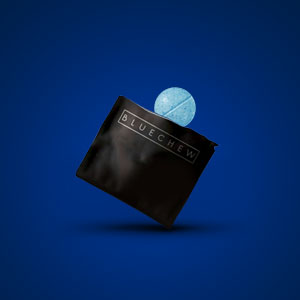 In my experience, the end-result is exactly the same with traditional pills you get from your doctor and bluechew. The biggest difference really is that one kicks in a little bit faster than the other and one is chewable while the other is a pill you have to swallow. After that, there's not much else that differentiates the two. Obviously, it is much more convenient for most men to order their erection pills online and have them delivered to their doorstep as opposed to the traditional route of having to book an appointment with your doctor and then trying to convince them that you actually need it.
Overall, most would agree that using bluechew is significantly easier than going through the hassle of getting the standard pills in person. It really comes down to what kind of person you are and how long you're willing to wait to get your hands on some ED medication that actually works. In my opinion, this chewable med will take over the male enhancement industry just because it has proven to be so effective at solving the issue of erectile dysfunction.
How To Get Bluechew: Is It Difficult To Obtain?
Again, the entire process starts out with a quick questionnaire that you have to fill out online and submit. Once you do this, you'll hear back instructions from the team via email; if you're still wary about the product, make sure to get your hands on the free trial that they're currently offering. You only have to pay the $5 shipping fee and can cancel pretty quickly if you decide that the product isn't for you.
Getting your hands on the stuff isn't difficult at all, so long as you actually need it. At the end of the day, this is still a medication we're talking about and if you don't actually have a problem with gaining and/or maintaining an erection, then you may never get your hands on the blue. However, if you're honest when filling out the questionnaire and you actually need medication to deal with erectile dysfunction, then ordering bluechew is as easy as ordering a book on Amazon.
The Verdict: Bluechew Is Revolutionary
When you sit down and think about it, bluechew has really revolutionized the ED industry. When else in history were we able to get our medication delivered to our doorstep with the press of a button? Sure, there have been shabby products online for over a decade but to actually get grade-A meds online is something completely unheard of in the past. Now we can get the benefits of Viagra/Cialis without the downside of having to walk into your doctor's office and explain to them that your penis doesn't work like it did when you were in your younger years. As more and more people discover bluechew, you can bet your bottom dollar that it will become one of the most popular ED medications out there.